Come see southern Savonia's provincial lake with Puula Tours cruises!
Puula Tours organizes cruises on the unique Lake Puula, where you can admire the beautiful nature, visit the harbour restaurants and cafés or explore the various sights and campsites along the lake.
The cruises usually depart from the Kangasniemi harbour or Ukonniemi, but other departure points can also be arranged.
You can choose either the ship Sorella (1-12 passengers), M/S Sisko (1-12 passengers) or the boat Sinikka (1-7 passengers). Food and drink can be included, and dinner cruises are especially popular.
There are many different types of cruises and destinations – ask for more information or check out the map and videos here! The choice is yours!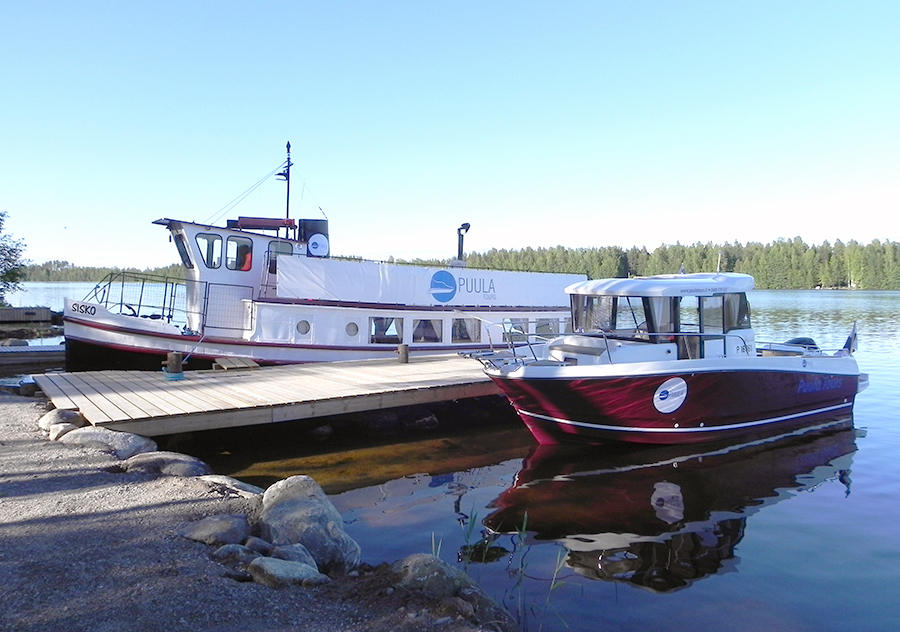 Sorella and M/S Sisko are ideals for leisurely travel. Sisko is an "old steel lady" and Sorella is more for celebrations and meeting. The ships have plenty of space for relaxation on the sundeck and inside. Sinikka boat allows you to see a lot in a shorter time, and due to its smaller size, it can visit in several destinations.
Pricing:
| | | |
| --- | --- | --- |
| DURATION | SINIKKA | M/S SISKO / SORELLA |
| Period of first 2 hours | 270 € | 290 € |
| Next hours | 100 € / h | 120 € / h |
| Wait time | 50 € / h | 50 € / h |
| Transfers without passengers | 75 € / h | 75 € / h |
Stewardess service 40 € / hour. Weekend prices + 40 € / hour on normal prices. Cruise minimum duration 2 hours. Payments can be made by cash, credit or debit card or invoice (companies only).
Themed cruises allow individual passengers to also take a cruise without the need to reserve the entire ship or boat. Check Puula Tours Facebook page or contact the captain for more information. Themed cruises are usually 4 hours in duration, and they include food or coffee. Prices 50 – 70 € per person depending on catering.
Catering:
Meals should be reserved a minimum of four days prior to the cruise (two days for coffee service). Contact us for an offer! Typical options include:
Coffee service (coffee/tea, savoury and sweet pastries and cakes)
Salad buffet and dessert/coffee/cake
Fish and salad buffet and dessert/coffee/cake
Contact:
Book your cruise now!
Puula Tours
Seppo Lappalainen
Puh: 0400 570 557
seppo.lappalainen(a)puulatours.fi
www.puulatours.fi